This week we worked 5 double shifts and a single on our 6th day.
Here is the jardin at the restaurant where we pick flowers, herbs, and salad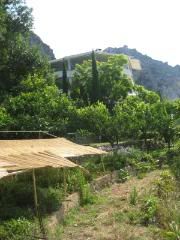 Making canapés
It was like surgery putting the lil garniture on top
After service, Denny, the Italian making us pasta. Delicious
In the garage eating after service. Chiho (Japan), Thea (Palo Alto, CA), Mikael (France), Masa (Japan)
Chef and his femme
It was the sous-chef, Davide's late birthday soirée. We had pasta, chocolate cake, and champagne... at midnight. Good times.