Manresa. Tasting menu. With Raf. Also accompanied by Andrew and his awesomeness, and we talked Carlo into it as well. Woot !
Andrew doing his model walk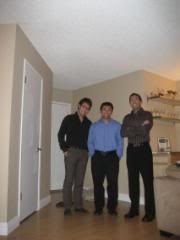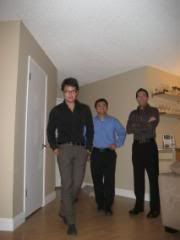 Chee-zu !
The lighting was really dim so the few photos I pulled these photos were from when I was "
staging
" there.
The menu for tonight:
AMUSE BOUCHES
Petit fours "red pepper-black olive"

Lavender lemonade, mint

Parmesan churros

Courgette sorbet, pistachio vinaigrette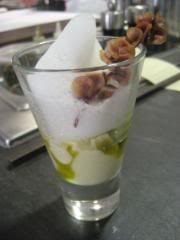 Sweet Corn cromesquis

Aprege farm-egg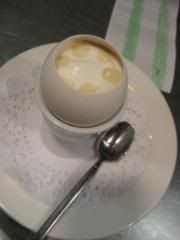 ENTRÉES
Foie gras, gently roasted, licorice and cherry

Shellfish and golden rasberries in bonito broth, fragrant green curry oil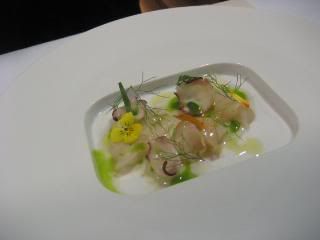 Tomatoes, both raw and cooked, smoked roe with roast tuna consommé
(This photo is pre-consommé)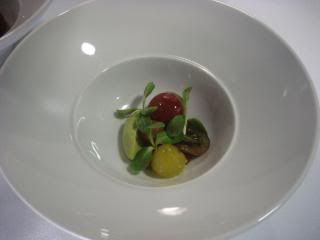 Pumpkin soup "potimarron", nasturtium ice cream

Into the vegetable garden...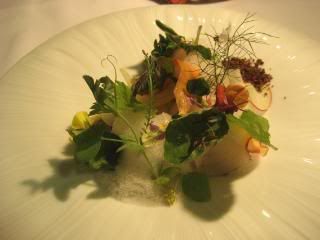 Roast tuna and vegetables in exotic spice, flowering herbs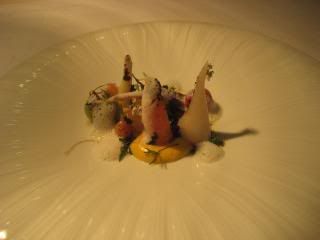 Sweetbreads, roasted whole, morel soubise with lemongrass

Roast lamb with eggplant and dates, anis hyssop

DESSERT
Pluots and olive oil ice cream, sorrel consommé

"Monkey bread" with Tahitian vanilla bean ice cream

Chocolate-blackberry napolean, black berry sorbet and coffee

Petits fours "strawberry-chocolate"
And for coffee... none other than
Affogato
Afterwards, we took a quick peek into the kitchen - it was cool to be able to show them where I worked for a few days.
This dinner was amazing - and I have to say I haven't had some of the flavor combinations before. Everything was delicious, but I especially enjoyed the corn cromesquis, foie, garden salad, sweetbreads, tuna, and "monkey bread" dessert. I really want to go back but the wallet needs a little work... or a lot of work. =) Maybe next year heheeh.
Manresa
320 Village Ln
Los Gatos, CA 95030
Tel: (408) 354-4330
Thanks Raf !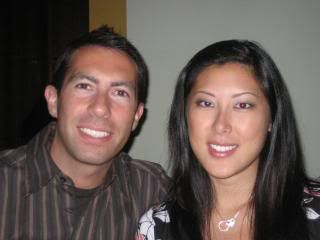 Outside the resto after dinner with
Chef David Kinch
and
Miss Pim
.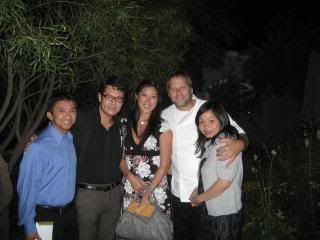 We didn't get out of dinner until around midnight. We were supposed to meet up with Luigi at a house party but apparently the cops came and it had died down. We decided to go to
7 BAMBOO
-
the coolest dive bar/karaoke bar EVER!
If I still lived here, I would totally be a regular. And normally, I don't even like Karaoke! (Depends on how many drinks). 7 Bamboo is so cool that you can stream them online and even type in comments about whoever is singing at the moment - which is displayed on the wall inside. The crowd is completely mixed too.
Here is Vic. He was here last time, about a year ago. Raf is convinced he's the owner but I think he is just a regular. He's good!
This guy was so funny with the cowbell
More cowbell !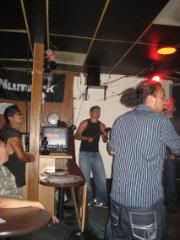 7 Bamboo
162 Jackson Street
San Jose, CA 95112
Tel: (408) 279-9937
What a fabulous weekend so far.