Today was Arai's last day. He was in charge of the meat station initially until Chiho took over. He is already a chef in Japan but came to France to work for about a year. Really really nice guy in and outside of work - and of course an awesome cook/chef.
Chef gave me the night off in exchange for helping the front of the house wipe some plates. I ended up cooking and cleaning on my "night off." HAHAHA But I still met up with everyone for dinner since it was Arai's last night. Chiho made a nice beef braise for our personal meal.
Look at Massa-san !
Later, I went for a nice 40 minute run to Centre Ville Menton, then to
Italie
, then back to France. (Yah I still love saying that). After service, we all met up in Enzo's room for some drinks to wish Arai Bon Voyage.
CHEE-ZU
Lucas' signature pink shoes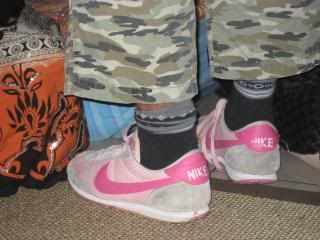 Arai, Chef, and Dani
Massa, Lucas, The Italian
Bon Voyage, Arai ! You will be missed.