Pim's in town. This morning we stopped by
Ze Kitchen Gallerie
- Pim was helping Chef Ledeuil make curry paste. Unfortunately I couldn't stay long enough to see the paste in progress since I had to deal with my papers at Ferrandi. But it's finished.
Ah, I feel much better now.
Had a delicious tuna sandwich (ummm they added dill!) from
Maison Kayser
and a monge. Good first lunch back in Paris.
Later, we went to pick up Pim's friend Matt at Gare de L'est. Grabbed a café at their hotel and shared some Pierre Hermé macaroons I picked up for her. (It was her birthday yesterday! Happy belated!)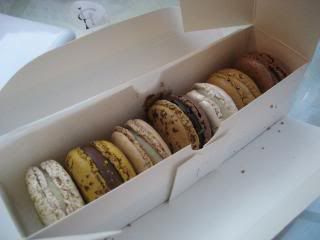 Then off to get some couscous. I am familiar with couscous (well, the course, grainier stuff) but have never had the "real thing." We went to
Wally Le Saharien
(recommendation from Sophie's friend) where it is handmade.
These photos suck but I had to post something. The food here is really delicious (sans the dessert).
Delicious soupe - loved loved loved the coriandre in it. Probably one of my fav herbs.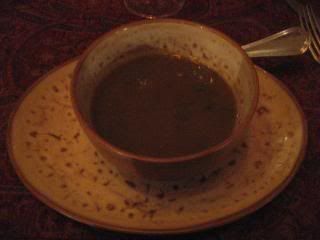 This was brick filled with farce - good balance of savory and sweet. Powdered sugar on top! Loved it.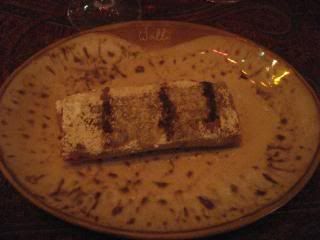 Nicely cooked - plus it was nice to have salad again!
Delicious lamb - the couscous was heavenly. Light, fluffy, airy, buttery. Not coarse and grainy. Ummm super bon.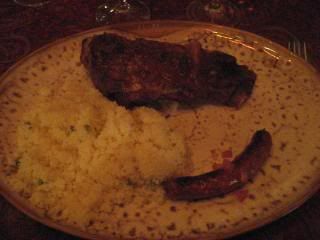 Desserts no good - soggy like it's been sitting out all day long. Tea too sweet, not enough mint.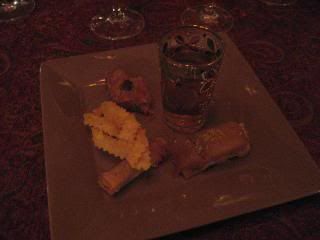 Matt,
Pim
,
Sophie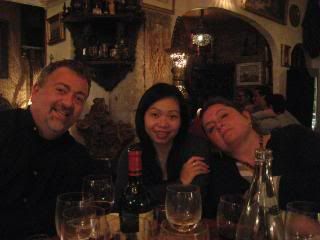 Afterwards, we walked across to
Spring
. Chef Daniel offered us some
Calvados
. Couldn't finish it.
Brung back memories of our trip to Normandy
.
Regardless, tummy is happy and full of couscous. Delicious like eating "light and buttery clouds" couscous. Now I know. Ummmmmmmmm. I will be back.
Wally Le Saharien
36, Rue Rodier
75009 Paris
M: Anvers or St-Georges
Tel: (33 1) 42 85 51 90