Stopped by to lunch with my grandma and grandpa. Despite a heavy breakfast of dianxing, we managed to munch on some goodies that their maid cooked up.
Afterwards, we went to the American Embassy. This was really important to my mom because it was the house of her great grandpa. She used to go there as a child.
Well guess what, the Chinese guards were really rude to us and told us we weren't allowed even with our
American passports
. They even yelled at Raf for trying to take a photo. Raf yelled back "I'M AMERICAN."
We saw a bunch of people in there and the guards lied and said they were workers. It was all BS because they looked like a tour group. They gave us the address of another visa office for Americans to "schedule a tour." Gotta love communist China running the embassies.
Now I know that if we are in any kind of trouble in Shanghai, the Chinese won't let us into the American Embassy. Raf took a quick snap of the place when we were in the taxi. hahah.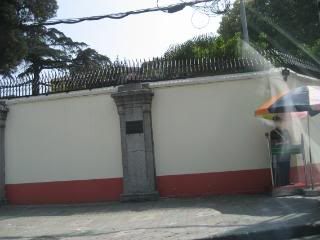 We went to the other office - the Chinese guy there was really nice and helpful - wasn't sure if he was American but he was working for the American visa office and sporting American uniform. He called the other place and received mixed messages and really wasn't sure what the heck was going on with them. Oh well, no access to the American embassy.
In other news, stopped by my mom's grandpa's brothers house. It is now a historical site.
A brief history about them - businessmen of flour/cotton, considered the biggest Chinese capitalists before the communists took over. I wish I could have seen what it was like here before communism.