Woke up and took a nice jog on the beach. It was a cloudy but still very nice. Much warmer here than in Amsterdam and Paris.
View from our room
Love the sound of the ocean
Yesterday we went to the center of town to search for something to eat. We ended up eating at a
shit
crêperie because
EVERYTHING was closed
since it's low tourist season. My chef from school gave me a list of good places to eat - we called a bunch of these places this morning. Unfortunately they would only open for large groups. We picked a Brasserie across the street that looked a bit promising.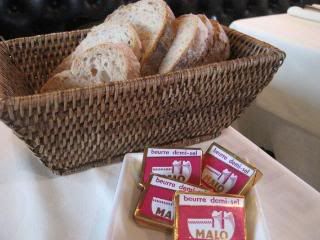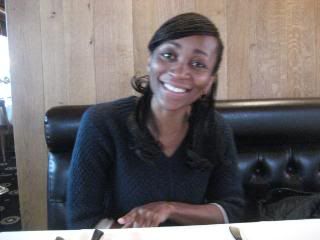 Amuse bouche - crab and avocado. They did a pretty good job with the "
guacamole
." Bravo !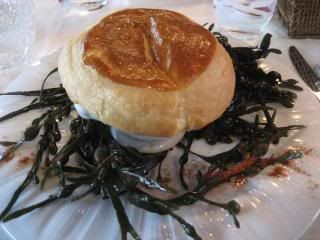 This was like a light scallop pot pie. Really good but the scallops were overcooked.
Nina's ris de veau - they did a good job on this one.
My extremely overcooked blue lobster. Too bad because the sauces and garniture were really tasty.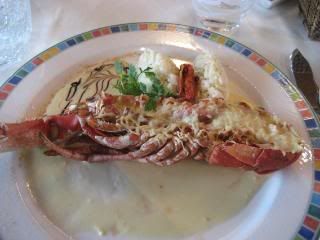 Nina's turbot. Slightly overcooked - everything else good. It came with a
galette
underneath as well as some
andouille
. Not a bad combo - who knew ?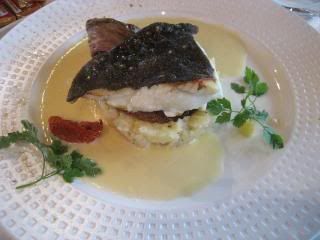 Excellent chocolat fondant au beurre salée
Pain perdu
Italian café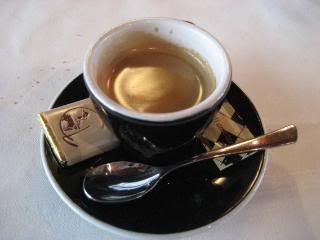 So if you are in town with no luck in finding a decent place to eat, try
La Brasserie du Sillon
3, Chaussée du sillon
35400 SAINT- MALO
Tél : 02 99 56 10 74