If you don't already know, I have been crashing at
Amanda
's pad in
Barbès
- the "immigrant" neighborhood of Paris notoriously known for their shabby shops, stores selling everything that is defined as crap and/or knick knacks, hooker shoe shops, mysterious Algerian bakeries selling gross pastries and "sandwich grecques", and a million gaudy wedding dress stores. But there are bonuses to living in this area -
super cheap grocery stores
. Buying groceries here ran me about 14 Euros the other day, whereas I used to spend a good 25 Euro for the same stuff when I lived in the 7ème.
And
Barbès does have their fair share of
random guys selling fresh charcoal - grilled

[in a shopping cart]

corn on the cob
which according to Amanda, is delicious. That will definitely be something I will try before I leave this neighborhood. And hopefully another blog post.
At first, I was a bit unexcited about this area but I have grown to appreciate it. And today was special since we decided to brave the open market. Normally, I go to the open market at the Bastille or Ledru Rollin. Tons of people but tolerable. This was an entirely different story. All I gotta say is to try and keep your ground and watch out for the big Arab women - they really know how to push and shove!
Look at the lady in white - it looks like she's about to
open a can of whoop-ass
.
This was like a
combination of Costco and Fry's Electronics - on a Saturday afternoon
x 100000
!
But we did see some interesting things like...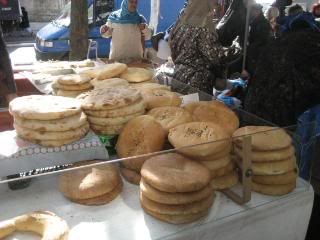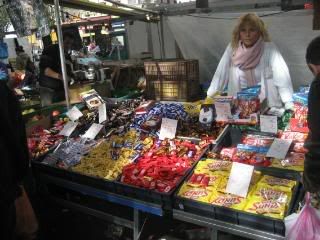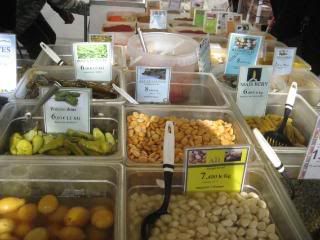 And the olive stand that Amanda was looking for. (Olives turned out to be fantastic, by the way)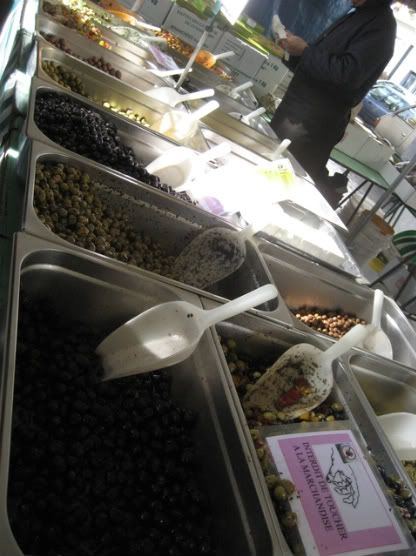 We probably only spent a good 20 minutes here. But it was really stressful so after we got her olives, we were outta there. And she even suggested going to another market down the road. I needed some space and recovery time so we will save that for next time.