I originally planned all my meals from reading
Hungry for Paris
.
La Gazetta
was whatever;
Higuma
was average, and
Le Baratin
was a bust. I decided to change all the reservations I made and go to bistros that I knew were good from experience. Made last minute plans to go to
L'Ardoise
. It was already 14h00 by the time we got there but the lady on the phone said it was okay to come by. (Hey, I am a cook, I know what it feels like to have customers come in right before closing. They need their break!)
It was so refreshing to be greeted with a warm smile. There were two other tables there eating so I didn't feel too bad. On with the food.
I ordered langoustine ravioli with bisque. Can I just say that this was
fucking delicious.
It came out piping hot too. Just like my chef always said in school:
"Hot, well-seasoned, and on time!"
And roasted lamb with coco beans. Again, H.W-S.O-T. And delicious, of course.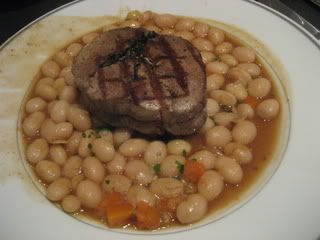 The "vegetarian" eating scallops! (She ate one for the first time last night!) Her dish came with puff pastry and cepes. Christine thought the food was a bit "weird" since she wasn't used to it. Her coworker, on the other hand, hated everything. But I will get to that in another post. ahhahahaha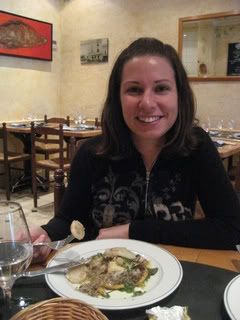 It's been a good year since I ordered profiteroles (or in Raf's words - Roger Federals). These are probably some of the best I've had here.
F'in bon
, man !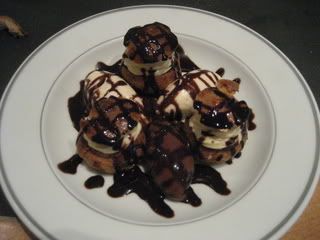 AND CHRISTINE STOLE MY LAST BITE OF ICE-CREAM - FROM MY PLATE. WHO DOES THAT???
She claims it's a "Jersey" thing.
L'Ardoise toned down on the size of the portions which was nice. The waitress there was so incredibly sweet and accommodating. (Last time we ate here, we had a stress case as a waitress). I was so happy to have a good meal here in addition to a nice serveuse - especially after the shit meal we had last night.
Je suis très contente.
L'Ardoise
28, Rue Mont Thabor
75001 Paris
Tel: + 33 1 42 96 28 18