Was quite productive today. Ran some errands. Did some more pastry "research." Tried to educate myself on coffee. And met up with Amanda at
Café Malongo
. Guess who was finally working?
RUDY!
He's really fun, and hooked me up with a free mocha with lots of crème chantilly dusted with cocoa and cinnamon. What a pal. =)
He said we looked quite different without our chef whites on. haha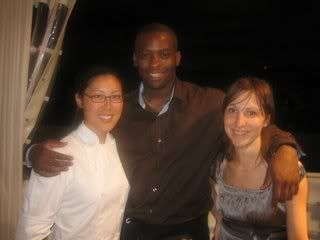 (Photo courtesy of Amanda)
After a nice 3-hour coffee break, Amanda went back to work and I went to go check out an awesome apartment in the 9th. Then I went back to Belleville to pick up a few
baozi
or Chinese buns from
Le Salon de Thé Wen Zhou
. It was already 20h00 but I was lucky to pick up some freshly made buns. Still warm. AND, I picked up another
Zi Ma Qio
, sesame rice ball with red bean from the resto closeby and it was delicious! Totally not overcooked! SO HAPPY. I ate it on the way home.
Then enjoyed the
baozi
in the comfort of Amanda's kitchen.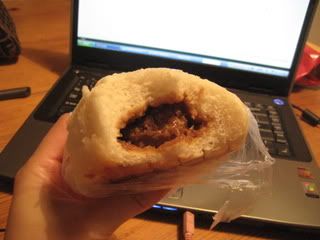 =)