I had previously eaten at
Bread and Roses
for the first time with
Ulla
just a few days ago. I had a café crème and a blueberry muffin. This was not a muffin, but rather a scone in muffin form. Holy butter ! It was good - just don't expect a fluffy blueberry muffin.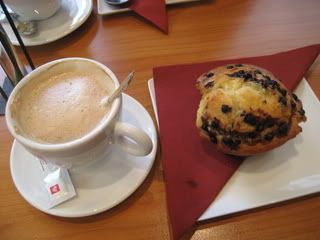 She mentioned that the cheesecake here was better than American cheesecake. I found it very hard to believe so I opted to come back and try it for myself. I met up with Amanda and Amir today to try it out.
Sorry Ulla, it has nothing on American cheesecake! It was made with crème fraîche instead of
Philly cream cheese
(
Philly cream cheese is a

MUST
). Also, the crust was a bit too watery and salty for me. It was a lot better than most cheese cake I have tried in France, but not the same as back home. Amanda claims that her cheesecake is better (she made the recipe at her restaurant and the chef put it on their menu - 11 Euro a pop!). I believe her. ;)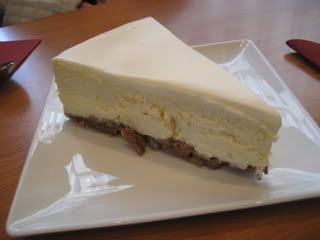 The brioche, however, was amazing. Loved it! Amir managed to eat most of the loaf by himself... with some help from me and Amanda. Good job, Amir!
Tu bouffe tous
. haha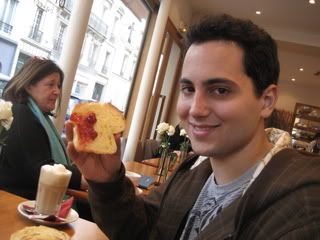 This place is pretty pricey but the quality is definitely there. Next time I will come back and try some of their savory items.
Bread and Roses
7, Rue de Fleurus
75006 Paris
Te: 01 42 22 06 06‎