Had Christine come visit me in Paris this weekend with her coworker. I took quite a bit of time researching places to eat.
Le Baratin
is one of those "local" favorites - it's a wine bar serving rustic bistro fair. Well, I guess I was expecting a lot from this place because of the rave reviews made by food writers and foodies in general. This place is
le suck.
I made a reservation at 19h30. I was told on the phone that we would only have the table for two hours. No prob. When we first walked in, we weren't greeted with any smiles (
actually we weren't even greeted at all
) and instead with cold service. And the 2nd thing that came out of the (I think) owners mouth was to be out by 21h30.
We were the
first ones seated
, and the
last ones served
. There were four other tables seated after us - even 10-15 minutes after us.
We got our entrees 30 minutes later! Incroyable !
Keep in mind that I am always polite, and speak only in French when I go to restaurants. But it was clear that me and the company I was with are American.
Ok let's get to the food - it was mediocre at most. My scallops were luke warm if not room temperature. I think they just let it sit out to cool down just for kicks. The plate was cold. The dressing sloppier than the rest of the clients who ordered the same dish. The scallops weren't cooked evenly. This was simple - I have done this at home, it's not that hard people.
In between courses, we wanted to order more wine. I tried to get the attention of the waiter. He totally looked at me, then looked away.
And pretended that he didn't see me.
He came by 5 minutes later.
What a douche.
However, there was another waiter that was polite to us - he was the only one that really acknowledged our existence. It was too bad he wasn't our serveur.
Duck done two ways - roasted and confit. The confit was cooked properly but there was no salt! Is that even possible? The roasted slice was overcooked.
See the beautiful gray coloring of the duck meat?
I didn't finish my dish at all. Christine only ate some mackarel carppacio and didn't even want to eat the vegetables on my plate. (She is vegetarian). We had enough of the
shitty service
and
luke-warm, under-seasoned food
so we skipped on dessert.
The only good thing about this place is their cat.
She (I think) made herself comfortable on Christine's jacket. The entire dinner.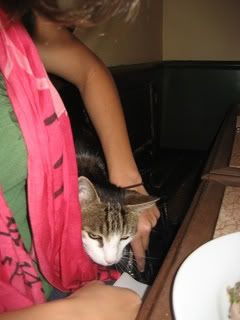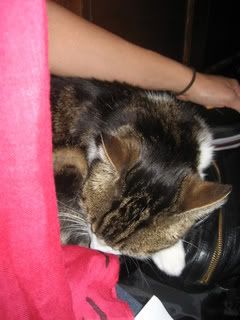 I have been in Paris for a year and this is the
first time
I have experienced shitty service like this. The rest of the clients were French and were greeted with smiles and good service. Funny thing is, I am not even picky about service and thought this place was bad. I can't think of any other reason why they would be rude to us except for the fact we are American. And it sucked because this was Christine's first trip to France. Not a good impresson.
I'm glad that this was expensed on Christine's company. We would feel worse if we actually had to pay for it. Definitely not going back.
Attention, les Americains !