Every year, the Anglophone class has an end-of-the-year school trip. This year, it was to Bordeaux. Chef Stéphane is originally from there so he planned the whole trip. Since Raf's family lives in Bordeaux, I decided to go in 1.5 days early to say hello.
I got in around 17h30. I barely made the TGV by 4 minutes. So typical of me. hah! Raf's uncle, and mami and papi came to pick me up. =) When we got to Mami and Papi's place, we chit chatted for a bit, then had some dinner.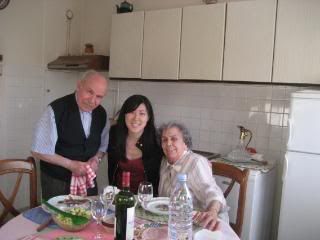 We had a simple but really delicious dinner of potatoes/persil/garlic, red peppers/garlic/thyme/olive oil/eggs, ham, rillettes d'oie, and yogurt with strawberries. I love eating here - always simple, fresh and tasty. I was really missing garlic too. (It's mostly used in southern French cooking).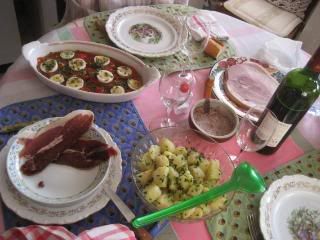 Didn't do much else today but chit chat, eat, and drink wine. Oh, and
small world
- Raf's aunt and uncle is friends with
Chef Nicolas Magie
's mom. hah! Pretty neat.
Tomorrow we go to "ton-ton's" house to eat. It will probably last 5 hours at least. =)