Now that the
CAP exams are FINALLY over
, I can now relax and spend some quality time with my friends. Andrew's family is in town and invited me out to grab some lunch at
Eric Kayser
. It was really crowded so we brought our sammiches to Jardin des Tuileries. Was a really nice day.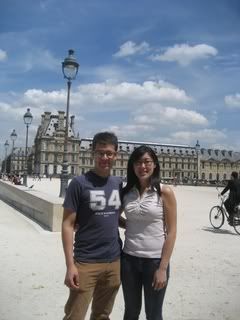 After a relaxing lunch in the park, me and Andrew met up with Alex and Canadia for a coffee. Alex is moving to the South tomorrow for work. Canadia is already working and was on his break.
Then it was back to hang with the Froug's at Place de la Madeleine. We went to
Fauchon
and
Ladurée
for some delicious tea and pastries. Now I know where Andrew gets his awesomeness. The Froug's are super cool!
Afterwards we planned to go see Speedracer, but got sidetracked to go eat some delicious Japanese food at
Chez Aki
since it was already getting late.
Ummm, I love yakisoba.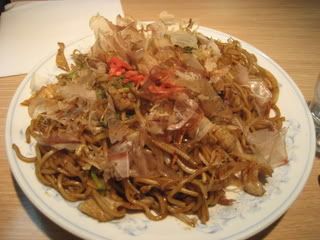 Look at the bonito flakes ! Loves it!
Chez Aki
Spécialités Okonomiyaki
11 bis, rue Sainte-Anne
75001, Paris
Tel: 01 42 97 54 27
Didn't end up going to Speedracer. We will save it for Friday night.
Today I realized what it was like to relax again.