This morning, I went for a run. Then I came back to this: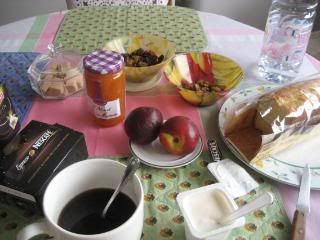 I really enjoy having breakfast here. They always have a stash of this butter pound cake which is called brioche, but it's really not brioche. Originally a type of cake from Brittany. And they always set everything up like this - coffee, tea, fruit, plain yogurt with confiture.
Remember this?
And this?
Loves it!
I ate a lot for breakfast thinking it was only 10h30 or something. Well, by the time I finished eating, it was around 11h50. I'm thinking, shit! Lunch is at 12h30, and the Donnays really take their meals seriously. I mean like 5 bottles of wine and 5 hours later seriously.
When we arrived (I got to drive - it's been months), it was l'apéro time. They busted out the whisky and Ricard, and the snacks on the table. I told them I couldn't drink that much because
"

Je deviendrai burer très vite.
" Translation:
I will become "fall on your ass piss drunk" really fast.
They were quite entertained that I knew the word
burer
, and jokingly said that was great French to know. I have to give credit to my chef for that.
Thanks, Chef !
After l'apéro, we started "lunch."
Delicious tuna flan and purée de poireaux (leeks)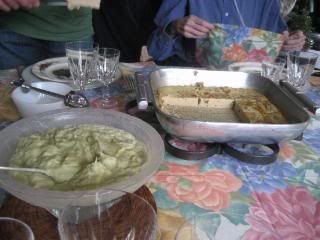 After, we took a little break and went outside.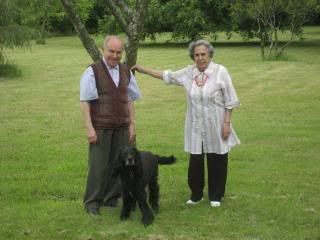 Raf's uncle naturally grows cèpes (a type of mushroom) in their backyard. How cool is that? Wasn't the season though so we didn't find any.
Then we had gigot d'agneau (leg of lamb) with farce made with ham. Here is Raf's cousin, Jean-Charles serving.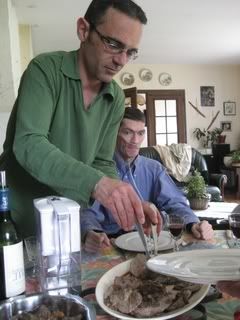 Smile !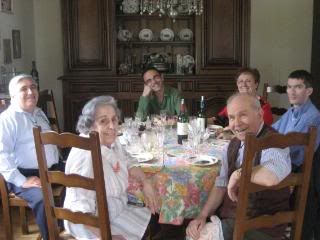 It was also his birthday. Bon Anniversaire !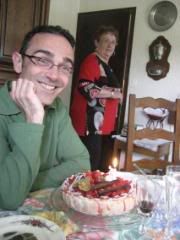 By the time we finished all the food, apéros, wine, champagne, and coffee, it was already around 18h00! We left around 19h00, went home, and showed Mami and Papi my blog. We also skyped a few people. Haha, mami and papi are like 95 years old and have Wifi and Skype. It's awesome.
This trip has been great just like the previous trips, but this time I can actually speak some French. I find it easier to understand Raf's family because they enunciate more and don't speak as fast as some Parisians. Conversations with Mami and Papi were really good, but I got a bit shy with the whole family together since my French needs a lot more work. But it was really refreshing to actually be able to communicate with them now even if it's just simple sentences. =)
Ah, good times with the Donnay's. I'm so full !