First thing's first on graduation day. Come in at 8am to finish prepping the cocktails. hah! I was so tired and not hungry from tasting our cocktails so I went home to nap, then get ready for graduation.
We still had a bit to setup before graduation started (4pm) so we all came in with makeup, hair, dresses, and suits on, plus our chef whites to finish prepping. Since I got fat from school, my black slacks didn't fit.
I wasn't sure if I could wear
skinny jeans
plus my boots so I actually called Andrew first to see what he thought. He was like
"Ummmm I don't think it's a big deal. That should be okay."
Then I called chef.
HAHAHAHAHA. I warned him it was a silly question. At first he was like
"What are skinny jeans? Oh skinny jeans! ahahah. As long as you wear your nice chef whites, it's fine."
I guess it's the old fashionista in me coming out ! HAHAHAH Of course, later I was made fun of by my classmates.
Like my new kitchen shoes?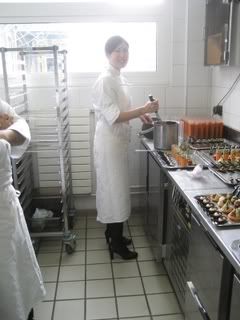 Andrew saying, "it's mine, all mine !"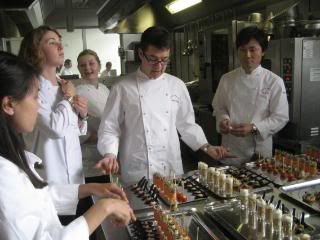 Bang-me et moi !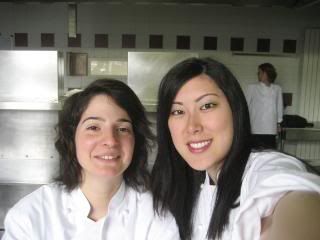 Les Anglos 2007-2008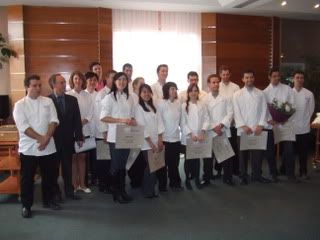 Monsieur Moeisel, the director of the program, and Chef Stéphane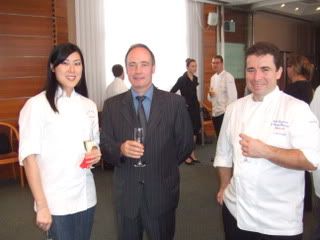 Waigong! Or Louis, my mom's godfather who lives in Paris came to see me! =)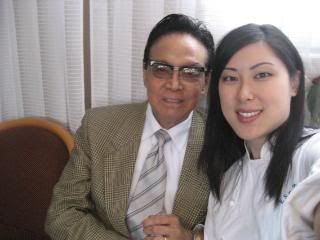 Shooting the shit with Chef Thierry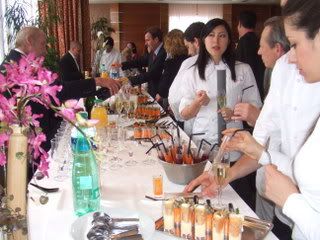 Rodrigo !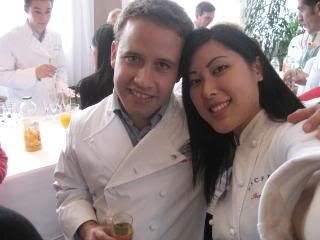 Madame Agnès Brugière- our wine teacher. She's so awesome and mentioned I progressed well in class. But I still don't think I know much about wine! It is so complicated - hopefully one day, I can know half as much as she does.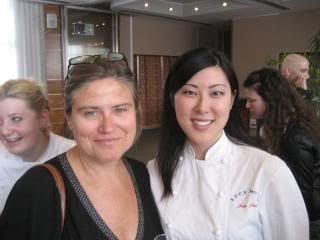 Here is Chef Sébastien's expression when we all gathered around him to present him gifts. Priceless !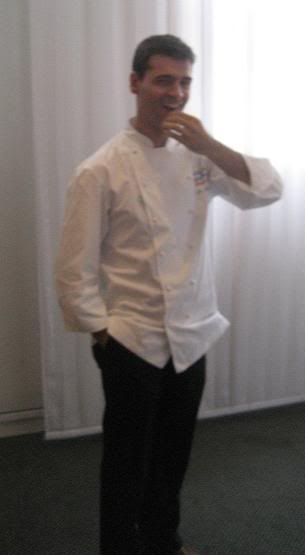 First gift...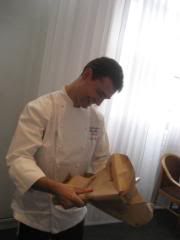 Chef Olivier Roellinger
's book. He is a great chef*** from the same region my chef is from, Brittany.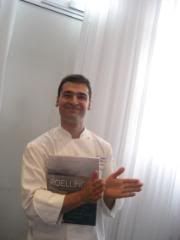 And of course, our gorgeous wrapping job.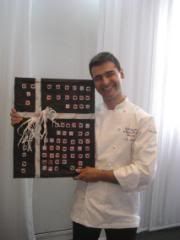 I think he was quite pleased with both gifts
Smile Anglo A !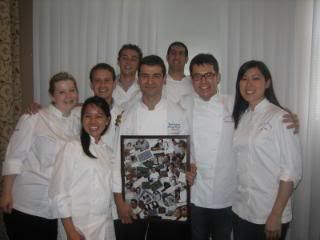 Our pastry chef Thierry joined us for our group photo =). He's also super duper awesome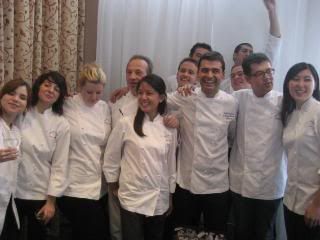 Chris HK, Berkeley/Dallas, and me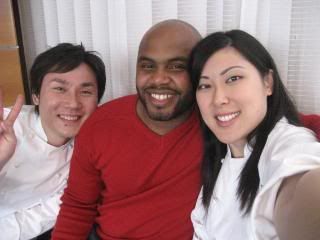 It was a really sweet and small ceremony. Family and friends all joined. Kat and Ulla were nice to come see me graduate as well. Really nice of them to do this for us. *Sniff*
C'est fini !
To be quite honest, even with a BS in Comp Sci and an MBA, this is my
proudest achievement.
=) I am very lucky to be given the opportunity to attend one of the best culinary schools in France (my bf calls me Ferrandi snob... hahaah!)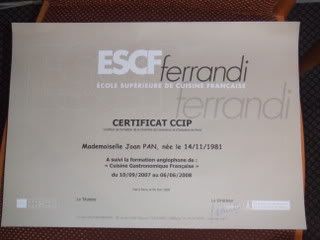 Afterwards, we went to a bar down the street to have a drink with les chefs. Thanks, chefs!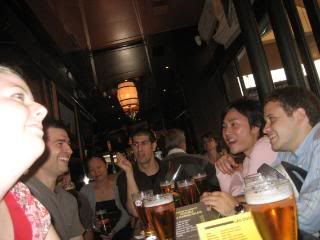 This is the
ONLY normal photo I have of Eldar
. Ah, so that's what you look like Eldar? hahahah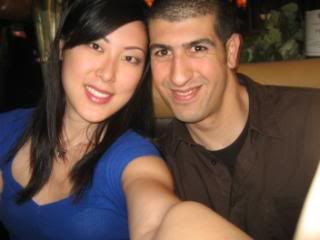 And look at my Screwdriver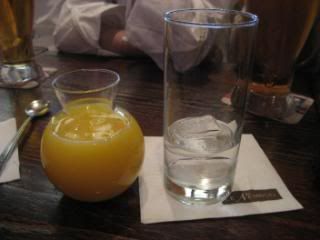 We were pretty full from eating at graduation, but when 9:30pm hit, we were hungry. Amanda and Chris HK didn't have plans, we decided to get some light and yummy Japanese food.
Soba noodles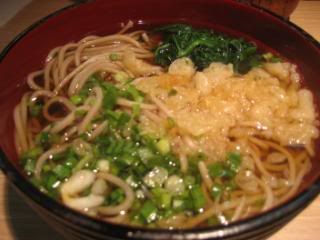 Tonkatsu-don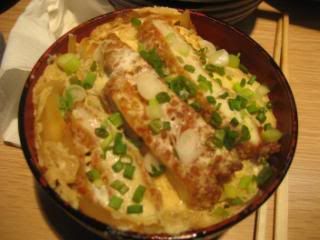 These vegetables were so good but I was too full to finish it.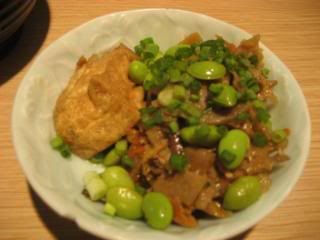 Happy Graduation meal for 12,50 Euro!
Aki
11 bis, rue Sainte-Anne
75001, Paris
01.42.97.54.27
Pretty yummy Japanese restaurant - I believe it's owned by Japanese. Most, if not all of the staff are Japanese which is a good sign. We finished around 1130pm. We were so exhausted so we all went home.
We were supposed to go out tonight, but Andrew didn't call me until 1am. Of course I was already in my PJs and in bed. Sorry Andrew! We shall celebrate in Bordeaux. ;)