Today was Kat's day off. I made reservations at
Mirazur
– a one-star Michelin restaurant in Menton that chef told me about.
On our way to the train station. Look how gorgeous. The water here is more aqua-green, but more clear than it is in Nice.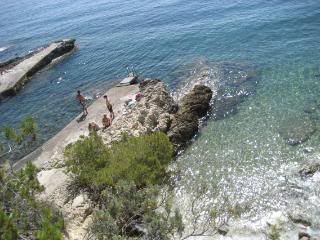 We took the train from Beaulieu-sur-mer to Menton Garavan, and walked about 7 minutes - it is situated in the middle of a residential area. Menton is very close to the Italian border.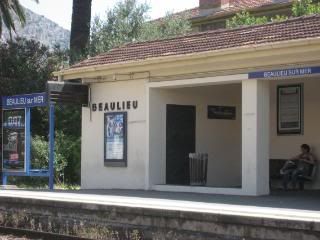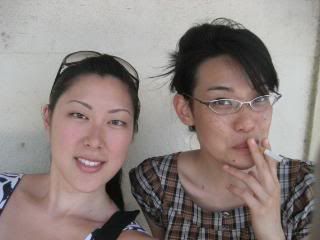 We got seated outside on the nice terrace.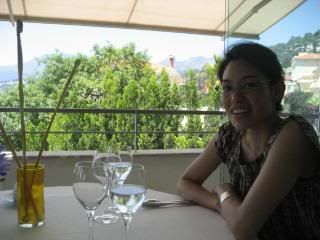 Gorgeous view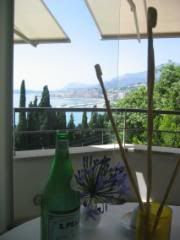 Amuse bouche – Velouté de champignons with a parmesan éspume, artichauts, almonds + radish, and poulpe + poivron rouge. Refreshing and delicious.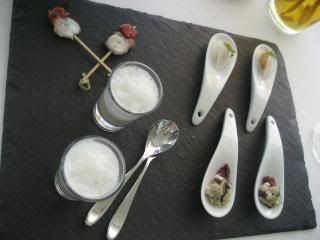 This was great – (almonds)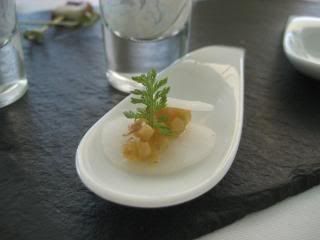 Another amuse bouche. Creme d'échalote, pommes brunoise, and pink éspume ! LOVED this.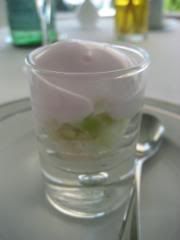 This was a "jello" infused with tomatos, olive oil, and safran. Kat was crazy about this. It was tasty – even the flowers!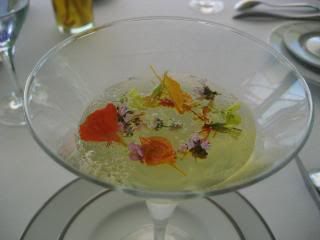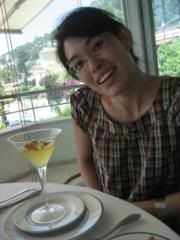 Three types of bread – foccacia with fenouil (was SO good), brioche with cinnamon, pain de campagne, and a breadstick.
Baby poulpe with ink and chorizo sauce! I was not expecting them to give me the whole thing. I could only finish the tentacles. (The tentacles were always my favorite part as a kid. My dad would always ask me if I wanted to eat the "curly curlies." Hee hee)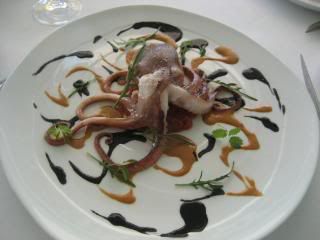 Cèpes with almond/crème. Rich and tasty.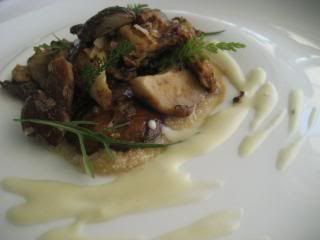 Poulet de Bresse, Sauce vierge aux agrumes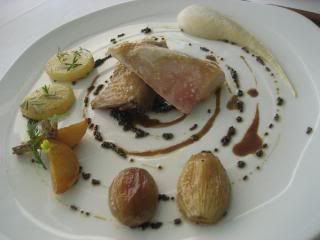 Maquereau de Mediterranée, Sauce sésame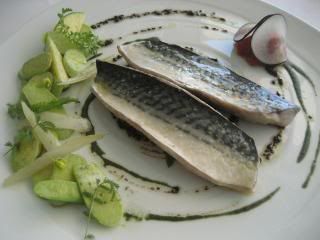 Free champagne ! It was really good – it's too bad I could barely drink half of it. =( Sometimes it sucks being a lightweight.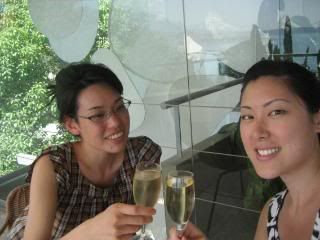 Chocolate, vanilla, and nuts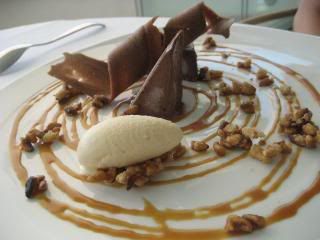 Super refreshing dessert. Sorbet de verveine (we made this in school!) with fresh fruit.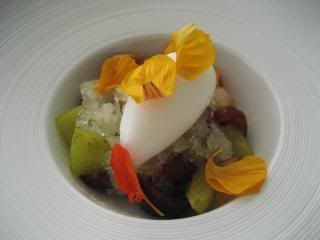 Mignairdises!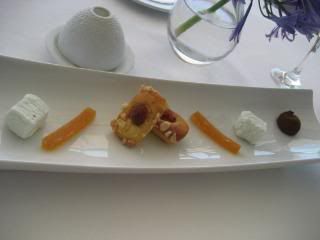 The lunch was 35 Euro for "3" choices. Overall, modern and different cuisine. Tasty – and I haven't had an entrée or dessert like that before. Very cool. The portions were ginormous though (for me and Kat, at least). Beautiful, moderne, clean, and colorful.
Oh ~ and I broke Kat's Michelin cherry. It was her first time at a Michelin restaurant ! =D
Mirazur
Executive Chef: Mauro Colagreco
30, avenue Aristide Briand
Menton, 06500
Tel : 04-92-41-86-86
Because the train and bus schedules were a bit inconvenient, we decided not to go to Monaco today. Here we are in Menton.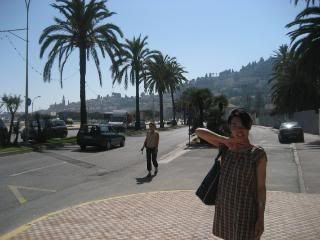 We headed back to St. Jean Cap Ferrat but took a nice bus ride through Monaco. It reminded me of San Francisco (Union Square) on the beach.
In St-Jean-Cap-Ferrat on the way to Beach Paloma.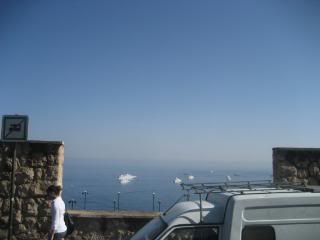 My first jumping shot of the trip.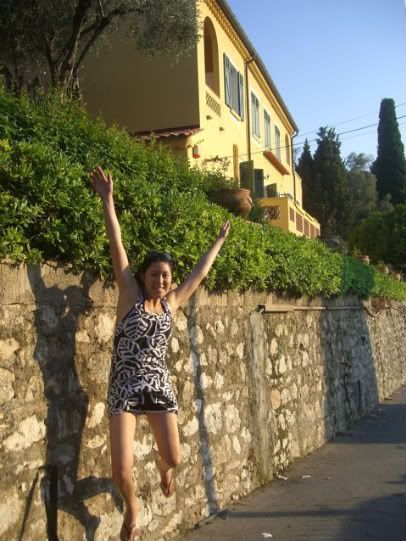 Here is the unimpressive Beach Paloma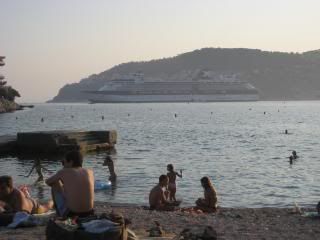 We went swimming and got some sun.
Then we went home, made some scrambled eggs with sauteed onions, courgettes, and soy sauce, and rice.