We spent a few mornings this week prepping the "cocktails" for graduation. This time we used all of Chef Stéphane's recipes for the savory snacks.
These, along with petits fours were made in Pastry class with Chef Thierry. I missed it because of my CAP exams.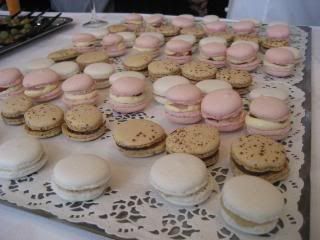 Chef Stéphane cutting some country bread. Traditionally, the inside part of the bread (my favorite part!) is cut into slices, and mini sandwiches are made. It's supposed to be a surprise inside the crust.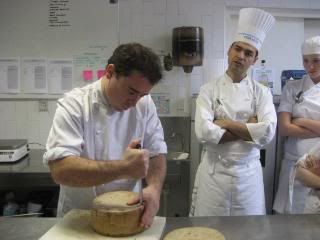 A tidbit of
moléculaire gastronomie
! Those droplets were made of jus de raisin and agar agar. Then it was dropped into oil. Reaction caused them to coagulate and turn into little caviar/tapioca type balls. Pretty neat.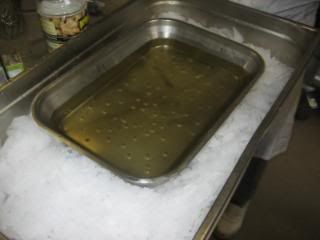 Aren't these cute???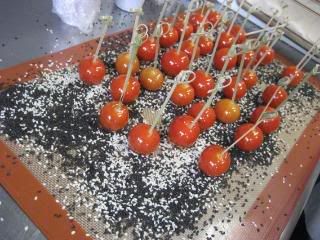 Well, glucose or butter wasn't added to the sugar so we had to throw them out. The sugar was too hard to eat - it was funny watching people trying to eat it... and trying not to break their teeth at the same time. Here is Natalia eating it like a lollipop. hahahah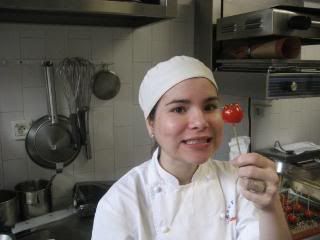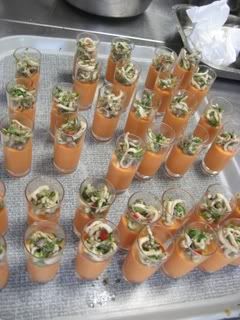 Chef Stéphane explaining the next technique.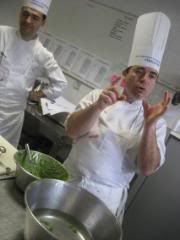 This was a pois (pea) purée dropped into water with calcium or something added to it. It caused the pea purée to coagulate.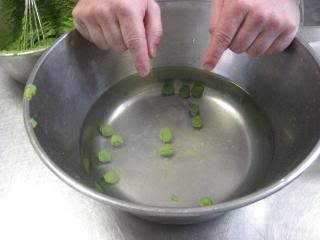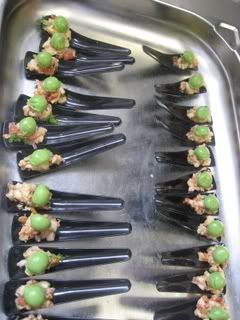 Andrew's dish - aren't the artichokes cute? They look like little Eiffel Towers!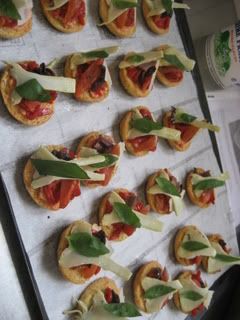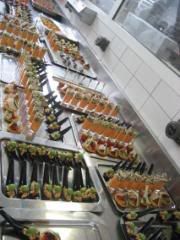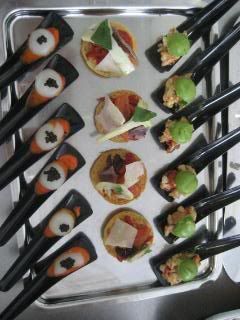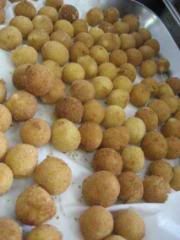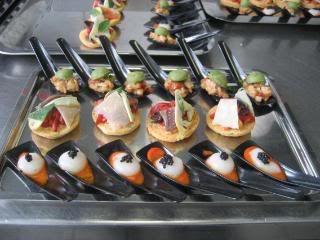 I was in charge of the
Gaspacho de Betterave et Fruits Rouges
(Gaspacho made with beets and red fruit) because according to my chef, my lipstick was the same color. HAH! I wanted to do a Gaspacho anyway.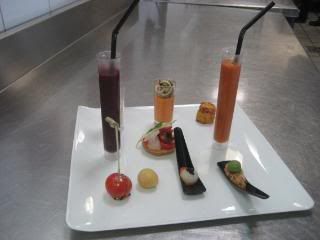 Il sera bientôt finir...