After our huge lunch, we were all really sleepy and totally stuffed. But we managed to have enough energy to entertain ourselves.
Our next excursion was to the Dune of Pyla - the largest dune in Europe. Raf used to come here as a kid and play. Pretty f'in amazing. Seriously. And really good to burn off a few calories.
Quick look at the bottom
The easy way up - the harder way was on the right side.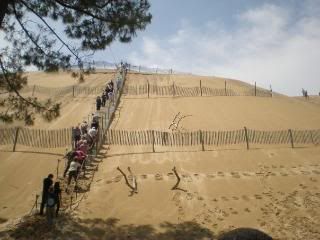 Taking the longer and harder route but it ain't got nuttin on Half Dome in Yosemite!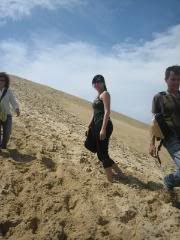 So when I tried to walk up at a normal pace, I kept sinking in the sand and falling back. I felt like I wasn't going anywhere so I decided to try "jog" and get up there as fast as I could. Hence me being out of breath here.
Moving on up !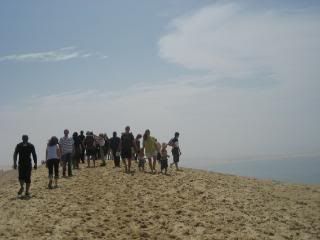 Look how gorgeous it is up here. These photos don't do it justice.
Such a gorgeous day.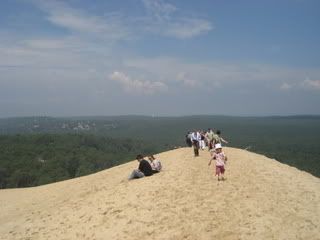 Salut, tout le monde !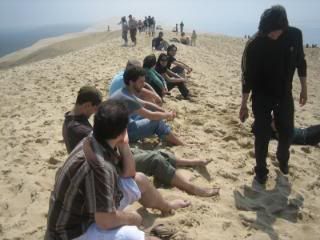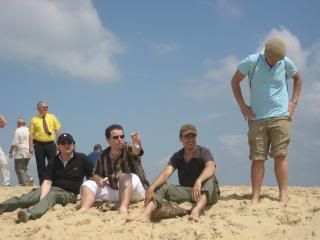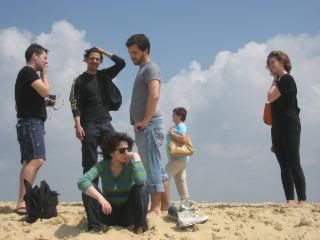 So nice up there. You can also see the windsurfers. Later Chef Stéphane suggested getting beer. HAH!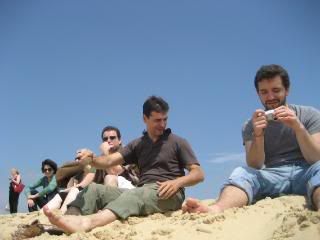 I brought my bikini but wasn't sure if it would be hot enough to tan and swim. Too bad, I shoulda changed! I'm so pasty and it's already June. I'm a California girl - I need the sun once it hits Feb/Mar! I laid down on the nice, warm, clean sand and tried to get some color (and ended up with a bunch of sand down my pants.) I am now dark white. =D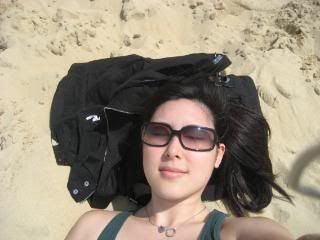 I turned around and looked up and saw Bang-me making a sand castle. HAHAH cute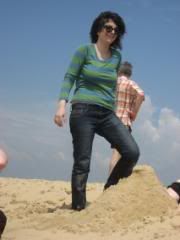 Chris, Felipe, Eldar and Andrew ended up going to the beach while we stayed up top. They actually went swimming (Canadia in his boxers hahahah) and everything! So jealous!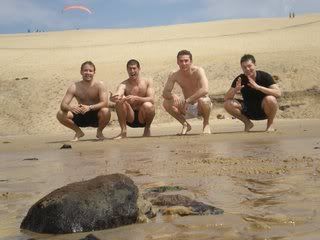 Walking back up to our side of the dune.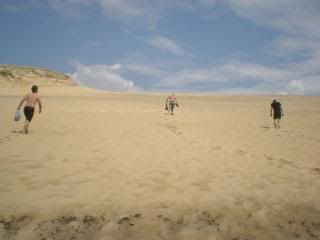 Our time was so short. It was time to go when it really only felt like we were up there for less than 45 minutes.
Signature jumping shot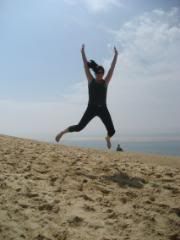 On my way down. Excuse the chub. I'm working on it. ;)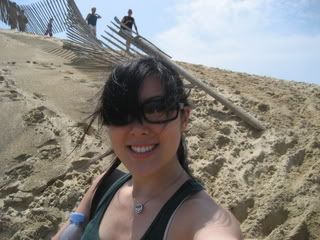 Was so fun running down!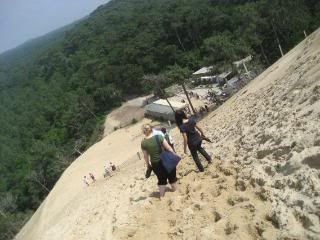 Eldar barely made it to the car when we left. hah! We all wanted to stay here longer. What a fabulous day =)